はい!こんにちはこんばんは!
Hi there! Good afternoon good evening!
今日は2ヶ月前にふらっと旅行してきたドブロブニクについて書きます!
Today's post is about Dubrovnik where I visited by chance 2 months ago.
僕が行ったのは9月後半でしたけど、半袖とパーカーで全然いけちゃうんですねー。
(むしろ観光シーズンが終わり気味なのでオススメ?)
I visited there at the end of September though, I only needed a short sleeve and a hoodie on it.
(I would rather recommend visiting there around this date than the high season)
まずは、この海の透明度を見てください!!!
First of all, look at this unbelievably clear sea!!!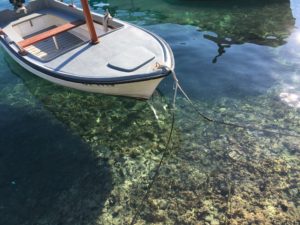 今すぐ飛び込みたいですねー 。
Feeling like want to dive into it right now.
---
ドブロブニクはとにかく猫と坂が多い街です。
Anyways, there are so many cats and slopes.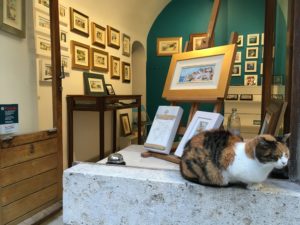 パソコンに毎日向かう僕にはゼエゼエものの街歩きでしたが、綺麗な景色を見るためならどこまでだって歩きます。
For me who always date with a laptop, it was a bit challenging strolling in the city though, I wouldn't mind it as long as there is a beautiful scenery.
ロープウェイで街の丘の上にある展望台へ。
Going to the observatory located on the top of the hill by the cable car.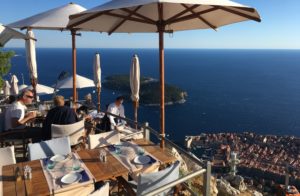 ここから見る夕日は最高です。夕暮れの1時間ほど前に行ってコーヒー、ワイン片手に待つのもいいでしょう。綺麗すぎた景色だったので写真は載せません。ぜひ自分の目で確かめに行ってください。
The sunset here is just awesome. It would be a good idea to go up there 1 hour before the sunset and have some coffee or wine while you are waiting for it. As the sunset was too nice, so I would recommend you try to see it with your own eyes.
---
僕はドブロブニクから船かバスで30分ほどのCavtatというという街に泊まったんですが、その街の海岸沿いにバーカフェを発見しました。その名も Beach Bar Little Star
I was staying in a town called Cavtat which is about 30 mins away from Dubrovnik by bus or ferry. I found a bar/cafe beside the sea in the town, called  Beach Bar Little Star.
ここ、最高に綺麗です。
すぐ隣に泳ぐスペースもあります。
夕日を見に人が集まってくるのでここも少し早めに行くことをオススメします!
It was a stunning place.
There is even a swimming space just beside it.
Many people get together to see the sunset so I'd recommend you to be here before the sunset again.
---
アドリア海といえばジブリ映画の紅の豚ですね。
Talking of Adriatic sea, I come up a Ghibli film called Porco Rosso.
音楽もさることながら、アドリア海に一人(一匹)生きる豚の悲しかっこいいストーリーが男泣きをそそります。まだ見たことのない方は "紅の豚" 死ぬ前に絶対見てください。お願いします。。。
Not only the music in the film but also the story about a man(pig) living with a sad background but a gentle behaviour makes me seriously sob. If you haven't watched it, you should watch it before you die.please…
---
アドリア海の真珠、ドブロブニクについて書きましたがどうでしたか?
ドブロブニクに行く機会があれば是非今回書いた場所のいくつかに行ってみてください!
So, today's post was about the Perl of Adriatic Sea, Dubrovnik I hope you enjoyed it!
If you visit there, why don't you try some of the places I talked about?
Thank you for your reading.
Aki